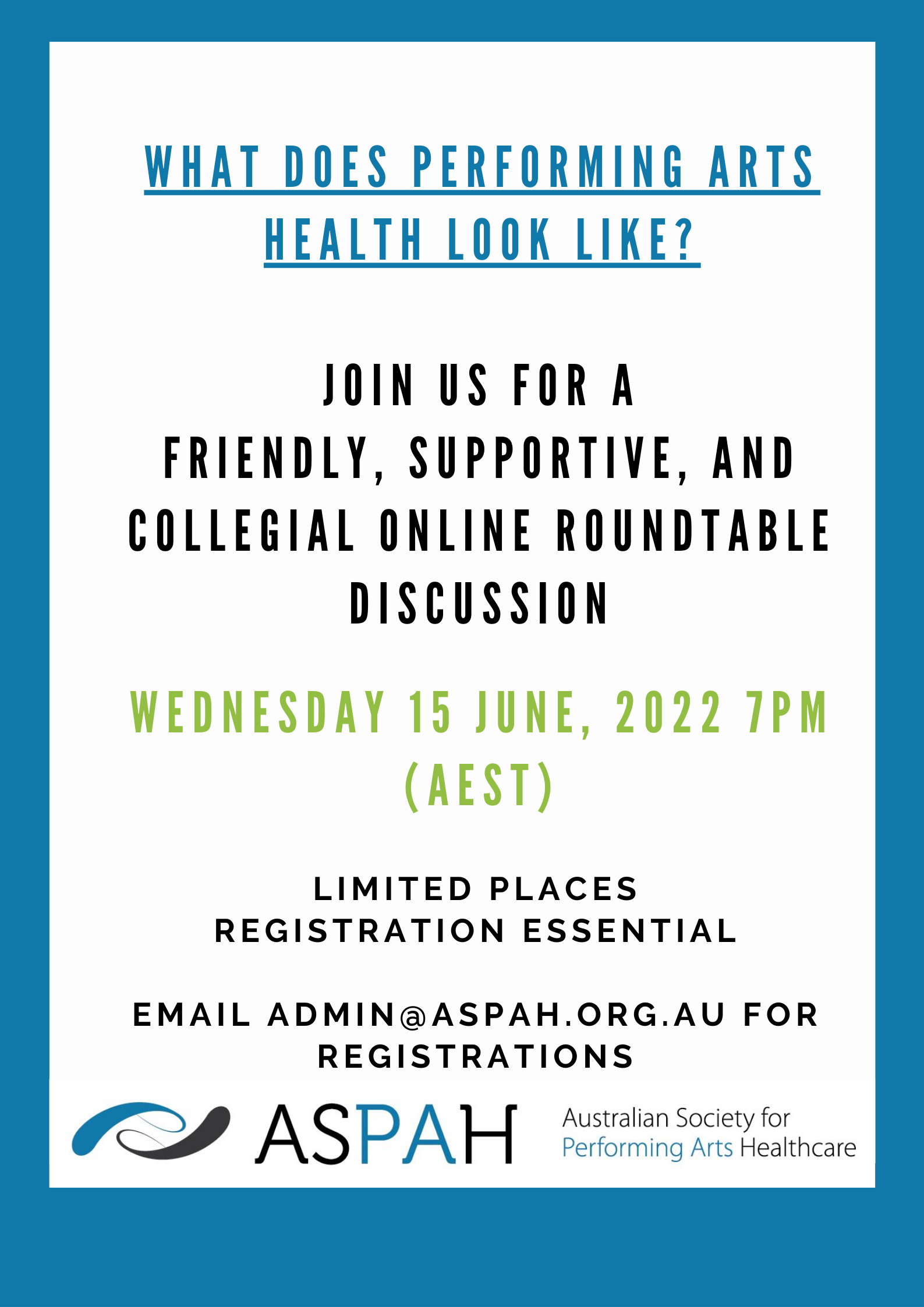 The Australian Society for Performing Arts Healthcare 12th Annual Conference was held online on 20-21 November 2021 with live presentations, Q&A sessions, workshops/movement sessions and break-out networking opportunities.
Please contact media@aspah.org.au if you would like to access recordings of sessions.

Nutrition for Optimal Performance
15 February, 2021
7pm (AEST)/8pm (ADST)
Learn more about the optimal approaches to nutrition for performing artists with renowned dietitian, Fumi Somehara. This session is suited to performing artists, teachers, educators, clinicians or anyone interested in the health of performing artists.
FLOCK #24
4 February, 2021
3pm (AWST- in person)
5pm (AEST- on zoom)
6pm (ADST- on zoom)
FLOCK #24, presented by ASPAH and FLOCK as a recipient of the Paulette Mifsud Memorial Grant. FLOCK present a creative roundtable- connecting independent & freelance artists with health professionals who focus on artist wellbeing.
Faciliated by Shona Erskine and Daisy Saunders, this will be an invigorated. shared exploration of how best to understand and support the health and well-being of independent artists.
Intentional Resilience and Playful Attunement: – Renewing our Creative Attachments to each other
15 December 2020
7pm (AEST)/8pm (ADST)
Dr Mark Seton (PhD) will assess the effects of Covid19 on our personal, interpersonal, social and artistic connection. Join Mark as he offers valuable insights and introduces practical steps to re-attune oneself and build intentionality into our current, rapidly changing circumstances. Suitable for teachers, students, health workers and practitioners in the performing arts sector.
What's New – An informative session for teachers and educators in the performing arts
23 November, 2020
7pm (AEST)/ 8pm (ADST)
5 short presentations from Australian researchers and/or clinicians in performing arts on reducing injury, hypermobility, perfectionism and optimal nutrition.
Online Round Table Discussion – Translating Research in to Practice in the Performing Arts
2 November, 2020
7pm (AEST)
Join us for a friendly, supportive, and collegial Online Round Table Discussion Group on "Translating research in to practice in the performing arts"
WEBINAR: Integrating Psychological Wellbeing into Performing Arts Training
with Dr. Margaret Osborne, Prof. Gene Moyle & Dr. Fleur van Rens
18 August, 7.30pm – 8.30pm (AEST)
WEBINAR: Understanding the embouchure – structure, function and managing common issues
14 July, 8pm – 9pm (AEST)
with Assoc. Prof. Bronwen Ackermann
ROUND TABLE DISCUSSION
Bridging the gap – Addressing the healthcare needs of performing artists
Tuesday 16 June, 2020
7pm – 7.40pm (AEST)
LASTING THE DISTANCE:
A Lifetime in the Performing Arts
30 November – 1 December, 2019
Arts Centre Melbourne (VIC)
BEFORE AND AFTER THE SPOTLIGHT:
Performance Preparation and Recovery
December 1st-2nd, 2018
Sofitel Wentworth (Sydney NSW)
DON'T TELL ME TO REST! THE REALITY OF PERFORMING ARTS HEALTHCARE
November 25th, 2017
Peppers Salt Resort & Spa, Kingscliff NSW
WEBINAR: More than muscles and bones: Influences of explicit cueing and naïve beliefs on movement
Wednesday, October 18th, 7pm – 8pm AEST
Janet Karin
A brief outline of the way the neuromotor system produces voluntary movement, including the impact of various cueing systems, explicit and implicit learning modes, and naïve beliefs. A case study demonstrates several causes and a new rehabilitative approach to a dancer's chronic spinal injury.
WEBINAR: Performance Psychology & Wellbeing for Performing Artists
Wednesday, August 2nd, 7pm – 8pm AEST
A/Prof Gene Moyle
The career of a performing artist can often present challenges not just to an individual's physical wellbeing, but to their mental health and wellness. The understanding and application of performance psychology strategies across all areas of an artists' life, not just the performance side, has been observed to assist in supporting the development of holistic approach to supporting individuals be the best they can be – both on and off stage. This webinar looks to explore a range of key performance psychology and wellbeing topics, with the opportunity for questions and further discussions regarding this important area of performing arts healthcare.
WEBINAR: Biomechanical video analysis for the clinic and the classroom
Wednesday, April 5th, 7pm – 8pm EST
Dr Luke Hopper
The explosion of video capture technology has made the use of video a highly accessible feedback tool for patients and students. This webinar will cover biomechanical approaches to video analysis that can provide structured feedback to aid movement rehabilitation and pedagogy. Through a structured approach to video analysis patients and students can feel empowered through the learning process towards improving movement quality for performance.
WEBINAR: The price of love: What are the wellbeing costs of pursuing an acting career
Wednesday, September 21st, 7pm – 8pm EST
Dr Mark Seton
A Webinar featuring a review of findings of the 2013 Australian Actors Wellbeing Study by Dr Mark Seton, Honorary Research Associate, Department of Theatre and Performance Studies, the University of Sydney, and Creative Director, Actors Wellbeing Base Camp, Sense Connexion.
Dr Seton, with colleagues Dr Ian Maxwell and Dr Marianna Szabo, in collaboration with Mary Cotter of the Equity Foundation, initiated a national online survey of professional actors – the first comprehensive study of its kind in the world. 782 actors participated in this survey and shared both their ups and down of making a career. The survey explored physical and psychological wellbeing as well as possible stressors that could upset an actor's long-term productivity.
Mark will outline many of the crucial findings of the Study, suggest next actions that the industry needs to take, and offer some of his own practical strategies for actor wellbeing and resilience that he has been teaching both working and student actors.
WEBINAR: Reframing performance anxiety within an artist's practice
Monday, July 25th, 7pm – 8pm EST
Dr Shona Erskine
BADance MPsych/PhD MAPS
Performance psychologist and dance artist
Shona will talk about the relationship between arousal and performance and how this can be understood as a function of the rehearsal and theatre environments to help performers manage anxiety.
WEBINAR: The Singer with a Vocal Injury … Must the Show Go On?
Wednesday, June 8th, 7pm – 8pm EST
Dr Jonathan Livesey
MA (Oxon), BM BCh, FRACS, FRCS, FRCS(Ed)
ENT Surgeon and Voice Specialist
Jonathan will talk about the nature of vocal and non-vocal injuries sustained by singers and how to help manage a return to best health through a multidisciplinary approach.
PERFORMING WELLNESS
Keynote speakers: Professor David Howard, Royal Holloway, University of London Dr Bronwen Ackermannn,University of Sydney
Saturday 10 December 2016,
Wyselaskie Auditorium, 29 College Crescent, Parkville VIC 3052