CALL FOR PAPERS  – 2018 CONFERENCE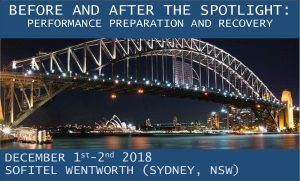 We are now accepting submissions of papers, workshops and posters for our 2018 Conference to be held:
December 1st-2nd, 2018 at Sofitel, Wentworth (Sydney, NSW)
WHAT TO SUBMIT
Papers, workshops and posters are invited on topics concerning clinical and educational research practices that address issues of injury management and prevention or holistic healthcare education for those in the performing arts, including instrumentalists, vocalists, actors, dancers, circus and physical theatre practitioners.
Please read the submission guidelines and use the abstract template below.
Abstracts not adhering to the template will not be considered.
ABSTRACT TEMPLATE
PRIZES
We are offering prizes in the following categories:
Career Development Award* – $500
Gift Vouchers for: Best Scientific Paper and Best Clinical Paper
*ASPAH fosters performing arts medicine research by supporting postgraduate research students undertaking studies in an Australian University to present at the conference. Each year, a limited number of Career Development Awards (valued up to $500) will be granted to the highest calibre abstract submissions. This grant provides support to cover travel-related expenses for students presenting papers at ASPAH's conference. Students must be enrolled full time in postgraduate studies to be eligible for this award.
EXTENDED DEADLINE 5pm Friday June 15th, 2018