ASPAH 2019 CONFERENCE

Keynote Speaker: Dr Sue Mayes
Dr Sue Mayes has been the Principal Physiotherapist of The Australian Ballet since 1997. She is the Director of company's world-leading Artistic Health Team and treats the diverse injuries of the professional ballet dancer and other elite athletes. Sue was appointed Adjunct Research Fellow at La Trobe University following completion of her PhD in 2017 and received a Distinguished Alumni Award from La Trobe University in 2018. She has published papers from her PhD, titled: 'Hip joint health in professional ballet dancers', and co-authored ballet injury-related publications. She is currently researching ankle and hip joint injuries in professional ballet dancers as part of the research partnership between The Australian Ballet and La Trobe University. Sue has presented at international conferences, including the International Association of Dance Medicine and Science and the IOC World Conference on Prevention of Injury and Illness in Sport, and lectures regularly throughout Australia. She has travelled worldwide, including providing physiotherapy for Sylvie Guillem tours throughout Japan with Tokyo Ballet (2000-2015), and the 'New Universe of Manuel Legris' program in Tokyo (2010). Sue was nominated for an Australian Dance Award in the category 'Services to Dance' in 2017 and 2018.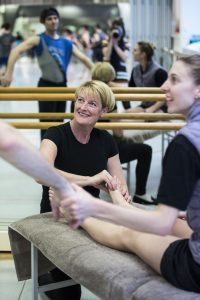 Draft Conference Program
DOWNLOAD DRAFT PROGRAM
NB: This is a draft and is subject to change. Last updated 22 Sep, 2019.
Registration
Registrations are currently open at the links below.